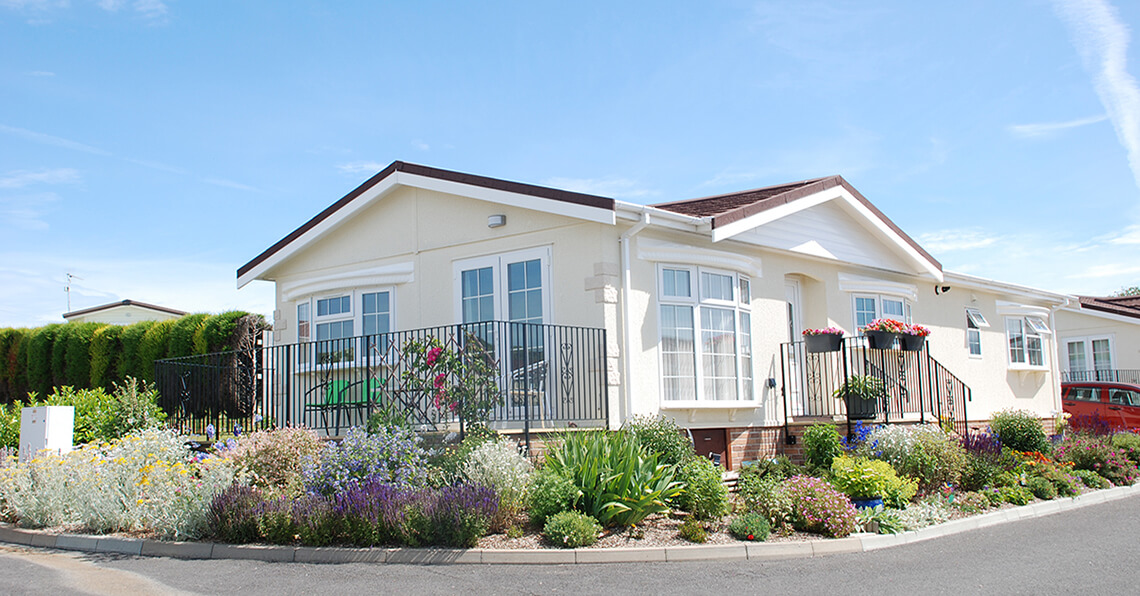 In the United Kingdom, there are currently thousands of people embracing the perks of living in a park home. From Bristol to Barrow-in-Furness; from St. Ives to Southampton, people all over Britain are making the wise choice of picking a pitch at beautiful locations across Wales and England.
Swapping out your bricks and mortar townhouse for a home on a Residential Park is a strange concept for many but Berkleyparks believe making the change is all about creating a new home with fresh horizons.
Every single one of our Residential Parks boasts unique amenities and experiences for the over 50s. You've simply got to discover them for yourself. Still not convinced? Here are 9 reasons to buy a park home.
1) Retire in Style
The time has come. The time to leave behind the daily grind and enjoy life the way you're supposed to. Done correctly, later life and retirement can be one of the most enjoyable periods of your life.
Retiring to a new home with all the accessibility and surroundings necessary for combining convenient living with fresh experiences is, what we believe, to be the best way to retire. Not to mention it's a long term investment that doesn't restrict your fanciful travels—especially with some Retirement Parks being in close proximity to airports and the Channel Tunnel.
As you approach or enter retirement, children have probably flown the nest and moved on to bigger adventures. Maybe you should too. Buying a new home is always exciting but choosing your perfect home in an ideal location can settle you for the rest of your relaxed retired life.
2) Luxury locations
Imagine opening your door every morning and stepping out into the staggeringly stunning Welsh valleys.
Envision hearing the rush of the ocean as you sit down to dinner on the distinct Dorset coastline.
Picture enjoying a jaunt along the streets of historic cities such as Oxford, knowing that the blend of archaic spires and modern amenities are within touching distance of your serene home.
These are experiences that Berkeleyparks homeowners enjoy daily. As Kirstie Allsopp and Phil Spencer would say, and we all know it's true, 'Location Location Location'.
Berkeleyparks have hand-selected the locations for their sites to maximise the access to nearby luxury sights and amenities. Whether you're more at home in the Yorkshire dales or find yourself most comfortable beside the seaside in the South East, Berkeleyparks have Residential Parks in 21 counties of England and Wales to make sure your options aren't limited.
If you want to see some of these amazing locations for yourself, then simply contact your chosen site to arrange a meeting anytime you wish. Our staff would be happy to show you around at a time that's convenient for you.
3) Enjoyable environments
Although location is a physical bonus of park home placement, the atmosphere and feeling of living on a carefully selected site has just as big of an impact on your experience.
Many retirees head away to the countryside to escape the hustle and bustle of city life, and you'll certainly get that in a residential park. There's also a sense of community and closeness that evolves naturally on a Retirement Park where like-minded people are your next-door neighbour.
Current Berkeleyparks residents frequently remark on the community feeling that the environments create. The layout of our Residential Parks and the privacy encourages closeness but our parks are close enough to bustling cities to not make residents feel completely isolated.
You can also enjoy getting the necessities you need on-site with visits from local tradesmen and deliveries of staples such as milk and bread. We always did love the milkman!
4) Plenty to do
Hobbies are a great way to spend your blissful retirement time but there's only so many jigsaw puzzles one human being can do. When you've mastered every 1000 piece layout of Jemima Puddleduck or river otters, it might be time to broaden your hobby horizons.
Residential Parks are fantastic environments for socialising and spending time with your neighbours or family. At retirement age, your time is your own to fill how you wish and living on a Residential Park lets you discover new activities with diverse locations and new groups of people.
Has your driver and five iron been collecting dust in the garage? Grab them out of your brand new garage and enjoy a game of golf.
Looking for a reel experience? Take to the water (or the shore) at a nearby lake and head home with glorified tales of how big the fish was.
How about channelling your inner John Craven away from the telly on a Sunday night with a personal Countryfile experience? Revel through sprawling countryside whenever you please or sparrow minute or two to indulge in birdwatching.
All of these outdoor pastimes are easily accessible from a number of our Berkeleyparks, you just have to choose the right one for you.
5) Financial Advantages
At any age, it's important to make sure you're fiscally responsible. However, as you prepare for retirement, you're completely aware that money isn't just a series of accounts and numbers; it's the savings you've worked tirelessly to build up so you can happily retire. Understandably, you want to know how it's being spent.
For many individuals, purchasing a park home is a financially smart investment. Apart from the initial expenditure on the home itself, monthly costs such as pitch fees and utilities can be easily tracked and paid so you have complete control over the movement of your money.
By choosing to relocate to a Residential Park with high-quality park homes, like those purchasable with Berkeleyparks, you can enjoy low-maintenance properties and free up your capital when you make the swap.
To find out more about the specific costs of each Residential Park, contact the Berkeleyparks staff to arrange a meeting at one of our parks at a time that suits you.
6) Downsizing
Have you got rooms going unused? Amenities that aren't utilised? Are you living in a location that was chosen for efficiency rather than personal taste? There's a chance that your home is just too big for your current needs as you approach retirement.
In fact, you may be spending too much running a home that isn't right for you anymore.
Berkeleyparks goes one step further to support your move. If you already have a property to sell, you may well have surplus capital to invest or enjoy. Choosing to plan ahead with us can help you free up some of your capital.
Although it requires a lot of cardboard boxes and a bit of decluttering, the act of downsizing is relatively straightforward. Once you sell your home for the best possible price, you can purchase a park home at a great cost, then use the money you have left to live in the lap of luxury.
If having less space is a worry, park homes come in lots of different sizes and layouts, for every taste and budget so you can downsize how you want.
7) Homes that suit you
Over the decades you've spent in your current home, you've probably poured countless hours into making it uniquely you. You might have built part of it yourself or spent whole weekends trawling through catalogues for the perfect furniture sets.
A park home should be uniquely yours as well. Berkeleyparks help you to select and design a home that's tailored to the way you'd like to live.
If you like entertaining, you may prefer a separate dining room. On the other hand, you might find a large kitchen/diner more practical. Fancy a utility room or a cloakroom off the hall? The choice is yours.
Have you always wanted a beautiful, fitted kitchen with a built-in oven and hob with an extractor fan and easy-clean surfaces to match? Now you can!
Bedrooms come with elegant built-in wardrobes, drawers and dressing table units. Bathrooms are equally luxurious. Some homes have two bathrooms, or you can have an en-suite shower room off the master bedroom.
Gas central heating with radiators all around will keep every part of your home cosy.
Every new home comes furnished with wall to wall carpeting, curtains, blinds for kitchen and bathroom and even the light fittings.
Our interior designers carefully select the furniture and colour scheme to blend furniture and decor beautifully, and it's all ready for you to move in. However, if you want to add a personal touch to your home then adding your favourite furniture is an option too! We all have a favourite armchair that we refuse to part with.
Berkeleyparks sites have park homes from all the leading manufacturers e.g. Homeseeker, Lissett, Oakgrove, Omar, Pathfinder, Prestige, Wessex, Tingdene Homes etc.
8) Security
Safety and security is always a key concern, especially at an older age.
Residential Parks are secluded, private estates and are frequently nestled away from busy areas. Your home is situated in a secure, close-knit community and vandalism is almost unknown. With most parks not having through traffic, the roads are quiet and safe.
Most of the individuals coming and going will be the familiar faces of park residents, their friends, families and the members of staff that help make the parks such wonderful places.
9) Independence
This is the time of your life where you want to make choices that suit you. Whether it's getting on the bus to go and see some historic sights or spending your days pottering around your personalised home, Berkeleyparks retirement parks give you the independence to live as you wish but have people on-site to offer you a hand when it's required.
Most Residential Parks have a manager on-site, whose job it is to help with any problems and to see that the estate is well looked after.
Join the other happy folk already living this lifestyle! Whether residents have lived on our Berkeleyparks Residential Parks for a few months or a couple of decades, so many of them have such amazing things to say about their homes and the experiences they have.
From comfortable, enjoyable to the high-quality homes to finally getting back to the community feel so many people have forgotten to value, Berkeleyparks Residential Parks are all about looking forward to your retirement years.
Below you can find out just a couple of amazing things our current residents have said:
"I like the lifestyle of living on Ivy House Park in that it's comparable to how it was always normal with people, in bygone times, to look out for their neighbours." A resident from Ivy House Park, Somerset.
"(I decided) to sell my three-bedroom house and buy a park home on Seabreeze, Ingoldmells; best thing I have ever done." A resident from Seabreeze Park, Skegness.
"I would not wish to live anywhere else, one always feels like they are on holiday. In other words, it's a great place to live." A resident from Penton Park, Surrey.
Whether you're planning to retire now, in the next year, or the next decade, it's never too early to start thinking about your plans for the future.
If you have a site in mind, get in touch anytime throughout the year. Our staff arrange for you to view the parks you are interested in, where you can see the different types of homes available
Come and see us now and within a month you could be moving into your own Berkeleyparks home. Contact us on 01935 862079 or email [email protected] today!